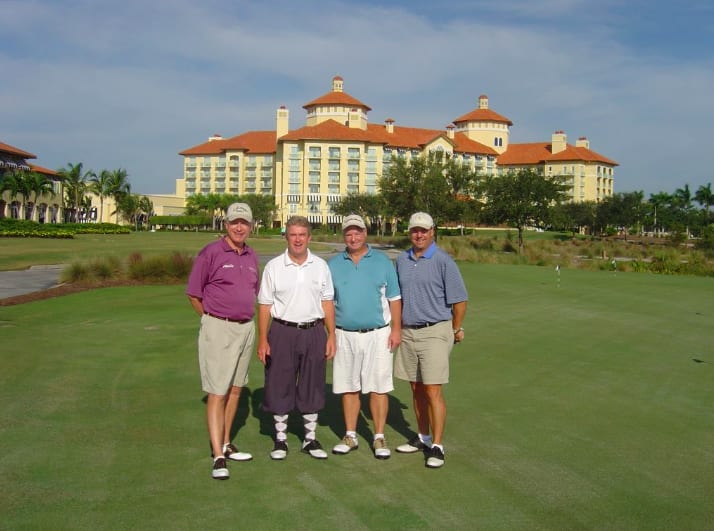 "What is the best private golf community in Naples and Southwest Florida?" This is—by far—the question that I get asked most frequently. My answer is always the same…there's not just one; there are a large number of private golf communities that appeal to the varying needs and wants of our world-wide assortment of buyers. But finally, a few years ago, I decided to develop a "Top 25 Southwest Florida Golf Communities" list that would allow my thousands of website (GolfHomeGuru.com) visitors and my many customers to narrow down our 100+ private golf communities, and focus on the few that come the closest to being their #1 option. From there, the final selection of the ideal private golf community becomes a lot easier.
My exclusive "Top 25" list has been fine-tuned over time, and it's now based on 15-years of showing and comparing properties in 80+ different golf communities, and ultimately selling in 50 of these communities. It essentially consists of a compilation of the communities most often chosen by my buyers, whose diligent, well-researched buying decisions have been predicated on a number of very important considerations. Although my individual buyers had different rankings of the elements that were most important to them in choosing a private golf community, the following ten are probably the most worthy of consideration for YOU to select the one in which you want to buy. I've also indicated key questions/points that you should address for each one.
LOCATION—Do you want to be close to…the Gulf of Mexico and beaches; shopping and dining; 5th Ave. in Naples; the River District in Ft. Myers; near Southwest Florida International Airport; etc.?
COMMUNITY HISTORY—Who is/was the developer of the community; how old is it; what is its financial condition; how progressive is it; how active and involved are its members?
COMMUNITY SIZE—How many homes does it have; will it be tough to develop friendships, and organize activities groups?
GOLF COURSE—How many holes do they have; who designed the course(s); how "player friendly" is it…for both men & women; how recently was it renovated; are there any existing, or planned, special assessments for golf course renovation?
GOLF MEMBERSHIP—Is a golf membership mandatory or optional; is there an initiation fee…if so, how much is it and is it refundable; are there any new member purchase incentives; can you sell your golf membership to someone who is buying your home; how much is the annual golf fee; what is the maximum number of golf members; how many golf members do they currently have; how hard is it to get on the course in peak season (ie January thru April); can you have your own golf cart…if so, how much is the annual trail fee; how extensive is the off-season reciprocal list?
MEMBERSHIP PROGRAMS—What types of non-golf memberships do they offer; are there initiation fees for them…if so, how much is each and are they refundable; are there any new member purchase incentives; how much are the annual membership fees; what amenities does each type of membership allow you to utilize; are the non-golf memberships mandatory or optional; do they have separate memberships for private beach clubs and/or boat storage?
CLUBHOUSE—Has it been updated recently; is it big enough to accommodate the size of the community; are there adequate dining facilities; are there any special assessments?
AMENITIES & FACILITIES—Do they have a full array of amenities and facilities, including today's "hot" items…an updated outdoor bar/dining area, pickle ball, and bocce' ball; what key amenities are they missing…and are there plans to add them in the near future; if so, will there be a special assessment, and how much; do they have a private beach and/or beach club on the Gulf; do they have boat docks and/or boat storage on-site; are there any special assessments for recent renovations?
TYPES OF HOMES AVAILABLE—Do they have single family estate homes, slightly smaller single family homes, attached villas, coach homes, carriage homes, verandas, basic condos; do their condos have garages; do they have new construction; what are the HOA or Condo fees for each type of home; what are the real estate taxes for each type of home?
HOUSING SALES HISTORY—What's the average age of homes in the community; how many homes have sold in the past year; how many are currently for sale…and what is their average number of days on the market?
Undoubtedly, it's going to be too time-consuming for you to get answers to all of these questions. However, if you focus on the ones you deem the most important to your efforts to select the private golf community that will best fit your personal budget, golfing habits and ability, and family lifestyle, you'll be well on your way to making a solid, long-term decision. Or, in golf jargon…no "mulligan" necessary!